Our Hotels

The hotel Aziza Thalasso Golf is situated at the edge of a fine sandy beach, 3 kms from the center of Hammamet, 65 kms from Tunis et 110 kms from Monastir.
Transfers: 1 h from Tunis and 1h15 from Monastir in a mini-bus.
The hotel blends harmoniously with the natural landscape, surrounded by a wonderful garden, perfect for relaxation.
Shareholder of Golf Citrus, the hotel offers special prices for the golf with a free shuttle bus (17 minutes)
A Wellness Center directly accessible from the hotel – specific cares tailored to individual requirements – the wellness center brings a unique concept of Thalasso-therapy in an exceptional setting.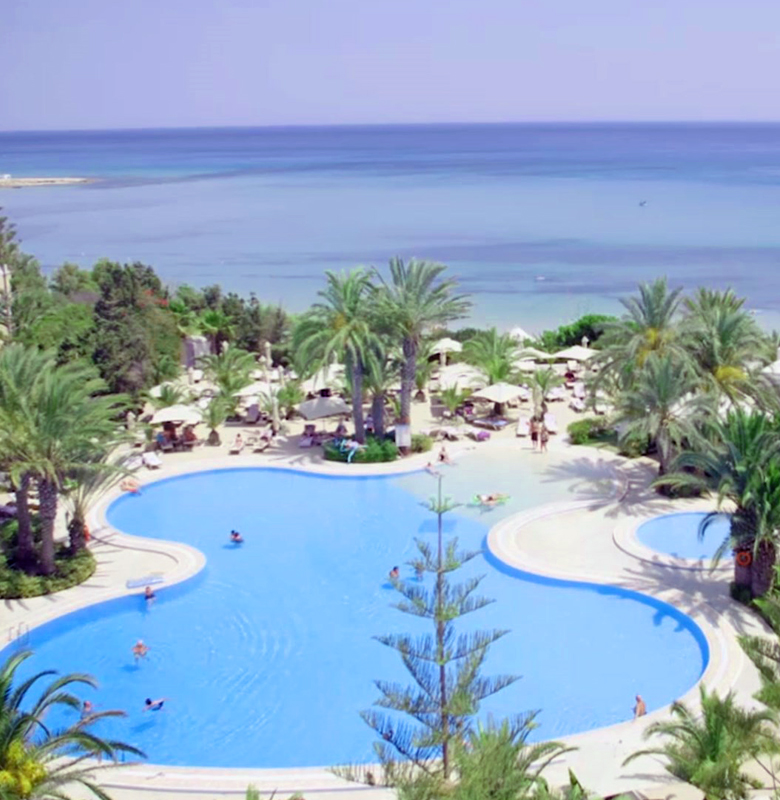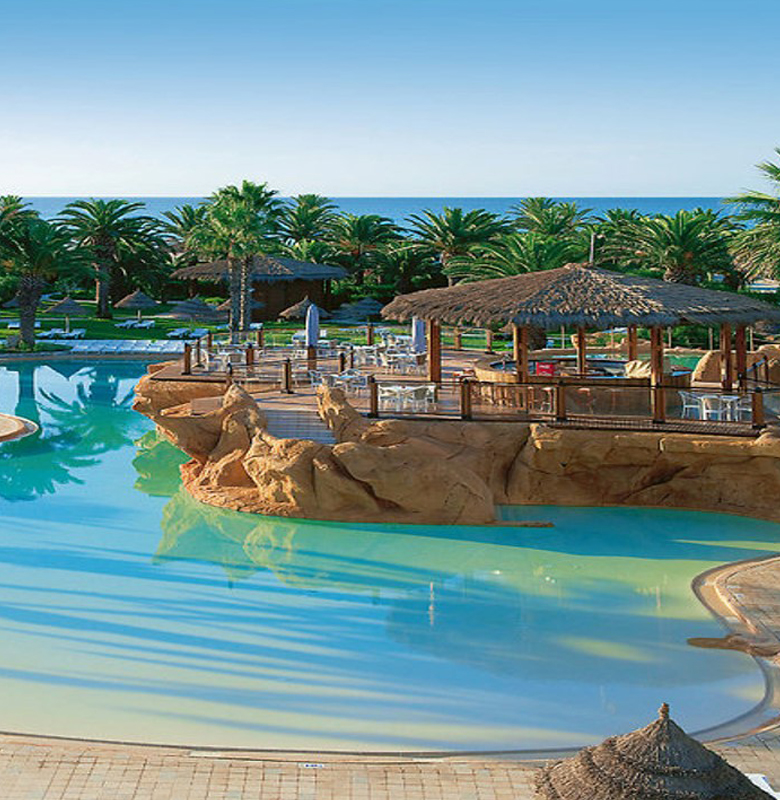 The Phenicia hotel is located in a vast flowery garden of 9 hectares, very close to a fine sand beach, in 6 km of the center of Hammamet and near golf courses Citrus and Yasmine.
The Phenicia hotel has 370 rooms distributed in three buildings from 1 to 4 floors, all with balcony or terrace, sea view or garden view, bathroom, hairdryer, telephone, TV satellite, air conditioning and heating. Mini bar with supplement, on request.
The Phenicia hotel arranges services and following equipments: a big outside swimming pool (fresh water), a swimming pool for children, swimming pool covering, lounge bar, coffee, discotheque, meeting rooms, 5 Tennis courts, aerobics, Archery, Playground, mini golf, mini club for children ( 5 – 12 years)
Watersports during the summer season
The Sindbad hotel is located 6 km of Hammamet Yasmine, 2 km of the center of Hammamet and 70 km of the airport of Tunis Carthage.
A modern and comfortable Hotel, with 145 rooms and 9 suites which are completely renewed, decorated in a contemporary style decorated with an oriental touch.
Surrounded by a luxurious garden, the sindbab offers three swimming pools, a fitness room, with yoga courts, a modern spa as well as the closeness of the most beautiful golf of Tunisia: the Golf Citrus with free shuttles.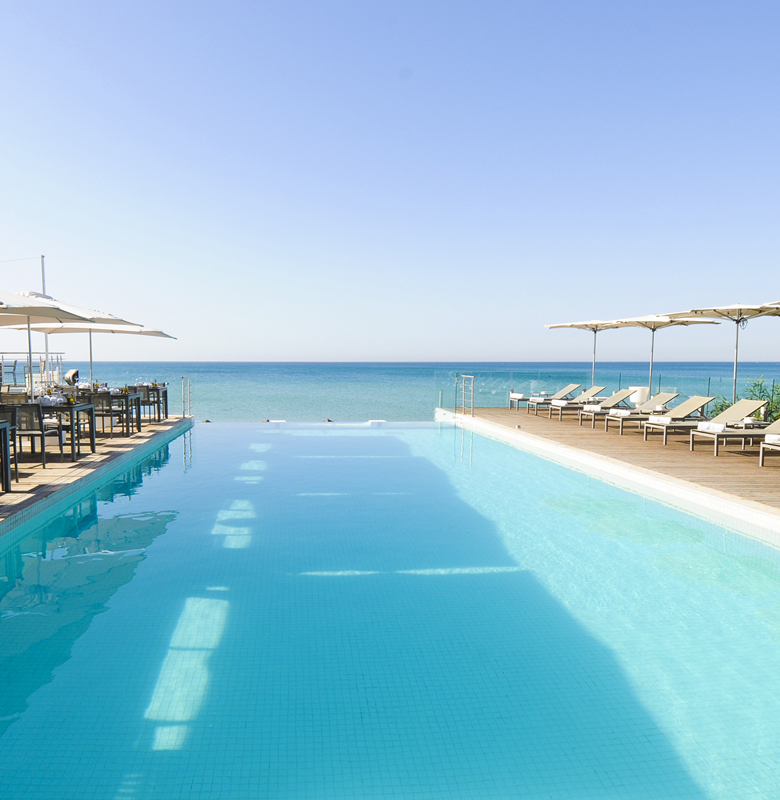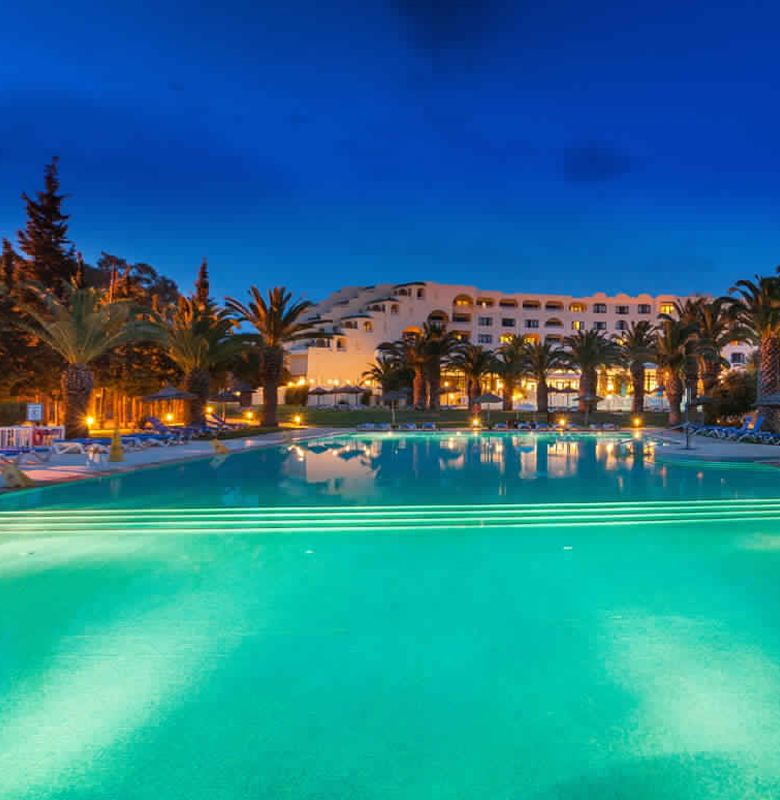 Holiday Village Manar is a magnificent hotel located in hammamet within a garden 13 hectare and bathed by a beautiful fine sand beach.
332 rooms completely air-conditioned equipped with telephone, television satellite, mini-refrigerator, safe and bathroom with shower.
The hotel proposes numerous sports activities and a high-quality international animation.
A formula of restoration(catering) all inclusive of quality makes of this establishment a reference on Hammamet. Situated near the most beautiful golf of Tunisia: the Golf Citrus with free shuttles
The 4 * hotel, built in typical Moorish style, is located near Hammamet (6 Km from the center of Hammamet and 6 Km from Nabeul), in the heart of a 100,000 m² garden. Directly by the sea on a beach of fine white sand.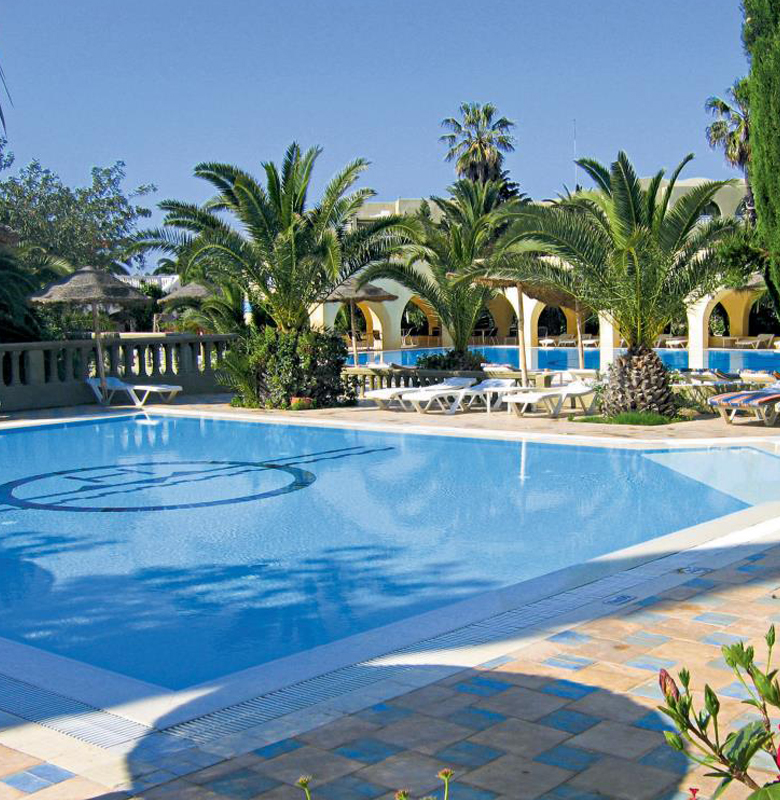 Nos Hôtels Partenaires


In a refined place, renewing with the artists of the early twentieth century, inspired by the unique light of Hammamet, "La Badira", proudly set up on its point, balances itself between gardens and sea and takes you on the Traces of Paul Klee, Jean Cocteau, Wallis Simpson or August Macke … At the heart of this Tunisia of the Arts, from the early hours of the morning to the dusk, the Badira invites laziness, inspiration and voluptuousness.

The Radisson Blu Resort & Thalasso offers a peaceful place to relax on the shores of the Mediterranean. The sublime beaches of white sand punctuated with lemon and olive trees give Hammamet its nickname of "seaside resort to the beautiful gardens" (Garden Resort). It is therefore very easy to discover the surrounding sites. The 274 rooms and suites offer access to the swimming pool as well as modern amenities such as satellite TV and free high-speed wireless Internet.

The luxurious Hotel Palace Hammamet Marhaba is surrounded by gardens as far as the eye can see and is located on the first line of a beautiful beach. This is the ultimate luxury establishment. There is a range of facilities, comfort and good service that guests need in order to enjoy a relaxing and relaxing stay.
In addition to the magnificent rooms in the main building, it also has bungalows surrounded by palm trees. Sports activities are varied and varied there are tennis courts, gymnasium and two golf courses nearby.

The hotel stands amidst eucalyptus and palm trees. Located at the gates of the peninsula of Cap Bon, this pleasant spa combines tourist quality and Arabic charm. Apart from the beautiful beaches where you can practice the most diverse activities, let us also mention the historical center which recalls the time when tourism was only an ancillary activity. Hammamet is also an excellent starting point to discover the wonders of the region: millennial cities, charming villages and extraordinary vestiges.

With its peaceful beachfront location and lush greenery, TUI MAGIC LIFE Africana offers a picturesque retreat. It is set back from all its surroundings and is nestled in a verdant setting in the middle of a lush palm grove bordered by a white sandy beach. This paradise is only 20 minutes from the center of the city of Hammamet.

Une odyssée Méditerranéenne ensoleillée… Un séjour inoubliable entre farniente, douceur de vivre et authenticité.
Idéalement situé en bordure de mer, dans la station balnéaire renommée de Yasmine Hammamet – Tunisie, Concorde Hôtel Marco Polo vous ouvre les portes d'un univers aux couleurs de la méditerranée, entièrement consacré à votre évasion et à votre distraction en famille, en couple, seul ou entre amis.
Construit dans un élégant style mauresque alliant confort moderne et charme d'autrefois, ce somptueux hôtel 4 étoiles vous offre un large éventail de facilités et d'activités avec un service aux petits soins pour un séjour inoubliable.